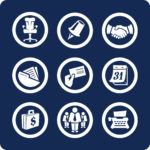 All businesses have similar records–from tax returns to cash flow and balance sheets and historical financial statements.  However, when it comes to discovering the true worth of your business, you don't want to choose a company that functions on a "cookie-cutter" model of business appraising.
Halas & Associates has developed a proprietary system that is based on an individualized method of business valuation consulting.  The founder of the company, Paul Halas, says with the Halas Business Valuation Services (HBVS), "you will find an appraisal system committed to the proper and fair valuation of any business." The Halas firm has produced comprehensive analyses of small, medium, and large companies throughout the United States for the past 30 plus years.
When you decide to determine the value of your tramadult.com company, you need the judgment and experience of a professional who is adept at applying his or her own expertise to the business numbers. You can ask your prospective firm the following questions to determine whether they meet your expectations:
Do you interview the business owners and financial advisors?
Do you review financials that go back three or more years?
Do you provide comparables, or "comps," so you can see the selling prices for similar businesses?
What is involved in your valuation process?
Is your assessment 100% confidential?
Do you charge for a preliminary review?
To find out more about evaluating the worth of your business visit the Halas & Associates website. To speak with a friendly and knowledgeable associate call (704) 364-4440.