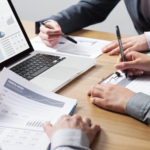 Even if you aren't planning to sell your business in the near future, it is smart to keep track of your tangible and intangible assets. As the business owner, it may not be obvious to you how to differentiate your assets, particularly when it comes to the intangible value of your company. However, the combination of your tangibles and intangibles is what gives your business its value. A company may be highly profitable in the marketplace but be infamous for its disreputable corporate culture.
Intangible assets are non-physical items, think of them as things your customers can't get their hands on. The following examples provide a general list of the main differences between the tangible and intangible assets you may have.
Examples of Tangible Assets
Machinery
Equipment
Office Furnishings
Fixtures
Real Estate
Vehicles
Additional Physical Assets
Intangible Asset Examples
People
Knowledge
Reputation
Trademarks
Patents
Licensing Agreements
Trade Secrets
Brand Identity
The comprehensive business appraisal services performed by Halas & Associates include providing professional services for business sellers and buyers, CPA's, accountants, attorneys, and investors who seek business acquisitions and or financing. We work with small, medium, and large companies. Feel free to call us at (704) 364-4440 for more information and to answer any questions you may have.